APC to Fayose: We won't accept you now, remain in PDP
By Omeiza Ajayi & Rotimi Ojomoyela
Still basking in the euphoria of its recent governorship election victory in Ondo State, the All Progressives Congress,APC,  has mocked  the governor of Ekiti State, Mr. Ayodele Fayose, advising him to stay put in his factionalized Peoples Democratic Party,PDP.
The advice was given by the governor of Plateau State, Mr. Simon Lalong, who spoke on the sidelines of yesterday's  North Central Zonal Congress of the APC in Abuja.
This came as Fayose said he would never join the party, saying he remained constant and unshaken in the PDP.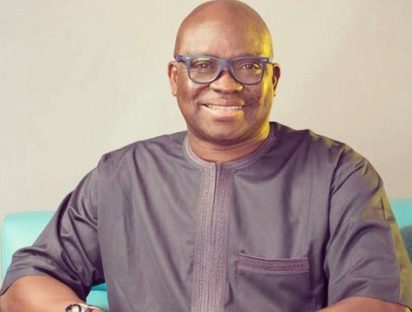 Lalong said the party was eagerly waiting to take over Ekiti, Rivers, and Anambra states just as it did in Edo and Ondo states.
He said: "The one I am waiting for is Ekiti. I understand that after Ondo, the man (Fayose) has been saying he wants to come to APC. He should remain in the PDP till after the elections. We just came back from Ondo and we were again recruited yesterday to go to Rivers and conduct another election.
"Before now, some people were looking down on APC, but now people with ambition for 2019 are withdrawing from the PDP and coming to the APC. We are going to Rivers and we will win the elections there. After there, we are moving to Anambra and that one is a done deal."
However, Fayose had while clarifying what he meant by possibly seeking an alternative platform in 2018, said: "What I said is that if the current man-made crisis rocking the PDP persists till 2018, rather than allow them to mess us up like they did in Ondo, we may have to seek an alternative and credible platform. We are not people who betray the confidence of their people. We shall carry our leaders and the people along.
"I will never dump PDP for APC. I remain strong and unshaken for the PDP. I can't jump the boat , even if I want to jump, I won't jump into the red sea. Why should I leave the PDP and join a party of hunger like APC? Ekiti is different from Ondo. By the grace of God, there will be a repeat of history here in 2018, I shall repeat the 16-0  that I gave  them in 2014.
"I operate like the biblical Elisha because those with us are greater than theirs. The God of Israel that conquered Philistines shall be on our side. The fact that they rigged PDP out of Ondo state does not mean they won the hearts of the people. Sooner than later, the joy they procured by dubious means will turn into ashes in their mouths. Their so-called victory is nothing but pyrrhic."
The post APC to Fayose: We won't accept you now, remain in PDP appeared first on Vanguard News.
Follow us on twitter @NigeriaTodayNG
This post was syndicated from Vanguard News. Click here to read the full text on the original website.