Buhari canvasses special courts to prosecute corruption suspects
By Levinus Nwabughiogu
ABUJA—President Muhammadu Buhari has canvassed the establishment of special courts to expedite the trial of corruption suspects, saying it would underscore the seriousness of his government's anti-corruption war.
He also revealed that the level of corruption he met on assumption of office in May 2015 was unprecedented.
The President spoke while playing host to the Council of South-East Traditional Rulers, led by their Chairman, His Royal Majesty, Eze Eberechi Dick, who is also the chairman, Abia State Traditional Rulers Council, at State House, Abuja, yesterday.
Buhari expressed frustration at the endless nature of some ongoing trials, citing some of the cases as going far back to the tenure of former President Olusegun Obasanjo.
"We are asking the judiciary to clean itself. Nigerians are tired of waiting. They want some actions," he lamented.
The President said he hoped that the Acting Chief Justice of Nigeria and Attorney-General of the Federation would come to some form of agreement by which specially designated courts would give accelerated hearing to some pending corruption cases.
"We want Nigerians to know we are serious,'' he said.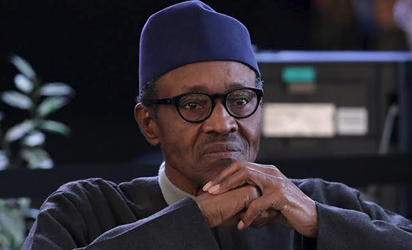 We met unbelievable level of corruption
Meanwhile, receiving the new US Ambassador to Nigeria, Mr. William Stuart Symington, who had come to present his Letter of Credence, President Buhari said the level of corruption he met upon assumption of office in May 2015 was unprecedented.
The President, who noted that the development was almost taken as a culture and norm, however, stated that his administration remained committed to fighting corruption, improving security and salvaging the economy, in spite of current challenges, stressing that those were key priorities of his government.
He said the target of reversing the "culture of corruption" in the country had received support from Nigerians, with many realizing the depth of damage done by some previous administrations, from ongoing investigations and prosecutions.
"The corruption we met at personal and institutional levels was unbelievable. Corruption was turning into a culture. After we came in, people started realizing the truth," he said.
The President said the security situation in the North-East had improved significantly, following support in training of the military and supply of hardware after the G-7 meeting in Germany in 2015.
President Buhari said the timely intervention of the United States, with a visit of the Secretary of State, John Kerry, to Nigeria before the 2015 elections, helped in ensuring peace and stability in the country.
In his remarks, the US ambassador said the interest in the well-being of Nigeria was of mutual benefit.
"We do it not only for Nigeria, but also for ourselves. We did it because it was right for us and right for our people," he said.
The post Buhari canvasses special courts to prosecute corruption suspects appeared first on Vanguard News.
Follow us on twitter @NigeriaTodayNG
This post was syndicated from Vanguard News. Click here to read the full text on the original website.