Castro: A great revolutionary passes on
Fidel Alejandro Castro Ruz, (more popularly known worldwide as Fidel Castro) who ruled the Republic of Cuba for 47 years, was one of the most outstanding personalities of the 20th Century. On Friday, 25th of November 2016, he passed on at the ripe age of 90, ten years after handing over the mantle of leadership to his younger brother, Raul Castro.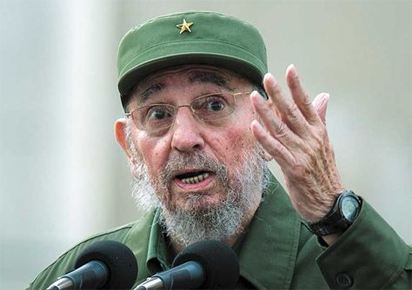 Castro was one of the most renowned and popular revolutionaries of the past century, especially in the newly-independent countries of the Third World seeking a future free from colonialism or extreme capitalist control.
In a typical "David versus Goliath" epic showdown, Castro, the son of a wealthy sugarcane planter, mobilised the 26th of July Movement, a rag-tag posse of guerrilla fighters which included the legendary Argentine Marxist and physician, Che Guevara, to defeat the army of US-backed President Fulgencio Batista in 1959. He became the Prime Minister of Cuba and later President.
He also successfully warded off the counter-revolutionist invasion by Cuban exiles armed and supported by the United States in 1961 and survived many attempts allegedly by American regimes to assassinate him. Castro went on to survive nine American presidents, from General Dwight Eisenhower to Barack Obama.
Perhaps as a means of protecting his upstart Marxist republic, he permitted his Soviet ally to establish a nuclear weapons site in Cuba, the discovery of which, in 1962 by the John Kennedy regime might have resulted in a catastrophic nuclear showdown. This was averted  when the Soviet Union leader, Nikita Khruschev, agreed to uproot and remove them from America's doorstep.
Thereafter, Castro joined the Non-Aligned Movement of Third World countries while still clinging to the USSR for protection and economic sustenance. He supported Marxist revolutions in Latin America (notably Chile, Nicaragua and Granada). He also sent military contingents to support anti-colonial struggles abroad, particularly Angola, which helped the leftist Popular Movement for the Liberation of Angola (UNITA) to defeat Jonas Savimbi's UNITA rebels.
Castro's internationalist orientation showed in the medical missions of the famed Cuban Doctors who served extensively during the liberation struggles in Southern Africa. Castro's Cuba offered free education to its citizens, made the country one of the highest in literacy rates and branded Cuba as a country with some of the best medical personnel in the world.
Unfortunately, Castro's Cuba was a poor, largely dependent country economically, and his reign of iron fist led many to flee the country into exile. That notwithstanding, Castro stood out as a leader who shrugged off his privileged family background and devoted his life to the upliftment of the poor masses of Cuba without amassing personal wealth.
He will, for a long time, remain a source of inspiration to revolutionaries; a great example in the devotion of leadership and governance to the service of the people.
The post Castro: A great revolutionary passes on appeared first on Vanguard News.
Do you have something awesome to share with the world? Click here to share
Do you ever have any question about anything you wish to ask and get answer? Click here to ask
Follow us on twitter @NigeriaTodayNG
This post was syndicated from Vanguard News. Click here to read the full text on the original website.