Walk-out: PDP senators make peace with Saraki, list condition for further support
By Henry Umoru
ABUJA—The Peoples Democratic Party, PDP Senate caucus yesterday made peace with Senate President Bukola Saraki at an early morning meeting where the opposition party senators laid down conditions for further support for the leadership.
The peace meeting in Room 301, New Senate Building, followed last Wednesday's raucous affair when Senator Yele Omogunwa, Ondo South defected from the PDP to the ruling All Progressives Congress, APC. The sustenance of the defection by Senator Saraki led the PDP senators to stage a walk out.
A source told Vanguard that yesterday's peace meeting was originally conceived as a PDP caucus meeting, but senators were surprised when Senator Saraki, himself, a former PDP senator, sauntered in, apparently to nip the crisis in the bud.
A source at the meeting said Saraki was said to have urged the PDP Senators to keep the unity of the Senate, irrespective of differences that might have occurred.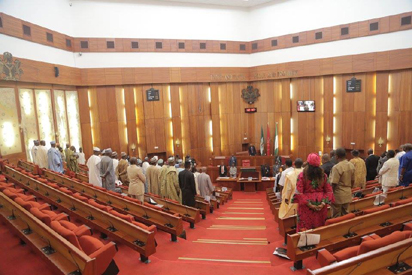 It was gathered that at the meeting, the PDP senators were said to have addressed Saraki on what he must do to sustain that unity as they told him that he should have handled Senator Omogunwa's defection in a better way than the celebration witnessed on the Senate floor.
The PDP senators were said to have reminded Saraki that when he as a PDP senator wrote a letter of defection in the 7th Senate that the then presiding officer, Senator David Mark kept the letter to himself to avoid heating the polity against the backdrop that there was no division in the PDP as at that time.
Saraki was also asked to reduce the frequency with which he recognised Senator Dino Melaye, APC, Kogi West, on the Senate floor, especially during deliberations on very sensitive issues.
Vanguard also gathered that at the meeting, Senate President Saraki was also told that if continued peace must be guaranteed, he should always recognize  the Majority Leader, Minority Leader, and other principal officers each time they wanted to speak as a matter of privilege as well as ranking senators because of their reservoir of experience.
The source said: "It wasn't that Saraki came to beg PDP Senators. We met to straighten what you can call the crooked legs of our relationship. We told him it was not necessary to recognize Dino on all issues, especially when contentious issues are involved.
"We also told him that the Constitution is sacrosanct and that there was no need to encourage the type of celebration we saw on Wednesday especially as he was in that shoe before when Senator Mark saved him from losing his seat."
Following the meeting at plenary yesterday as the PDP senators resumed sitting, Senator Saraki hailed the maturity that was shown by them.
The post Walk-out: PDP senators make peace with Saraki, list condition for further support appeared first on Vanguard News.
Follow us on twitter @NigeriaTodayNG
This post was syndicated from Vanguard News. Click here to read the full text on the original website.