Don't hand over your tankers to motor boys — FRSC
The Federal Road Safety Corps (FRSC), Lagos State Command, has advised tanker drivers to desist from handing over their tankers to their motor boys.
Mr Hyginius Omeje, the State Sector Commander, gave the warning during an interview with journalist in Lagos on Thursday.
Omeje advised the tanker drivers to imbibe and value the training recently organised for them by the Petroleum Tanker Drivers (PTD), a branch of the National Union of Petroleum and Natural Gas Workers (NUPENG). "The tanker drivers should value the training organised for them by their union leader.
"We also appeal to them to stop handing over their tankers to their motor boys.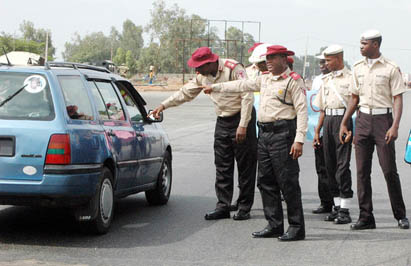 "It is very wrong and dangerous for any driver to do such, as they should always think of safety first, before any other thing," Omeje said. According to him, some tanker crashes have happened as a result of motor boys handling the trucks.
The FRSC boss also urged the drivers to always have a rest, after travelling for about four hours on the road. He said that on no condition should a driver hand over the truck to the motor boy.
Omeje urged the tanker drivers to always obey traffic rules and regulations and to also consider other road users in the course of their journeys.
He urged the drivers to fix the speed limiters into their vehicles, saying that it would caution and reduce the speeding of any vehicle, especially tankers carrying highly inflammable substances.
"Tanker drivers should make use of the limiter gadget in their vehicles, as it will caution them and reduce crashes resulting from speeding.
"At the same time, the device will automatically reduce their speed to 65km per hour, which is the normal speed limit for trucks and tankers, to avoid crashes.
'"The drivers should avoid driving under the influence of alcohol and drugs and restrict themselves from using the fast lane," he said. Newsmen reports that the training of 4, 500 tanker drivers organised by the PTD started on Jan. 17.
The post Don't hand over your tankers to motor boys — FRSC appeared first on Vanguard News.
Follow us on twitter @NigeriaTodayNG
This post was syndicated from Vanguard News. Click here to read the full text on the original website.