Mimiko rounds off tenure with his Odyssey
By Dayo Johnson
Akure—GOVERNOR Olusegun Mimiko of Ondo State yesterday reminisced that he disobeyed his father to venture into politics.
He spoke at the public presentation of a biography: Mimiko's Odyssey, A Biography of Revelation written by a former Director of Research at the National Institute for Policy and Strategic Studies, NIPPS, Prof Olu Obafemi.
Mimiko, who spoke with newsmen after the launch said; "If there was anybody who infused my family members with political virus, it was my father himself.
"He loved politics and followed politics. But after the 1983 mayhem, my father developed hatred for politicians.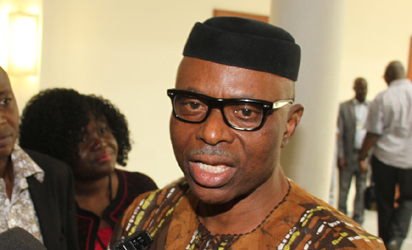 "When I decided to have a go at politics, it was because of the violent background of the objected to my involvement.
"If he is alive now, he would have been proud of what we  have been able to achieve. He taught us early in life how to care for others. He taught us that there are greater virtues in life than money.
"Money is not the source of satisfaction. I grew up in a house filled with love not about all these material things.
''So early in life, I got a value about service. I got value that money is not all that matters in life but what matters is the hand of love you can extend to people.
"If father is alive, he would have been so proud of our Abiye programme because its about  taking care of the vulnerable in the society. He would also have been  proud of our Mega Schools because he spent his whole life educating his children
"I personally have the satisfaction that some of the dreams that I  had about what governance should be about impacting on the lives of people— that any government programme that doesn't do that is not worth it.
"In every sector, God has given me opportunity to impact positively on the lives of our people in the state. This gives me joy and I thank God for this wonderful opportunity.''
The chairman of the occasion,  Prof Oladipo Akinkugbe said the governor still has a major role to play in the nation's politics and commended his doggedness and distinct qualities which he observed are missing in many politicians.
The roll call
Present at the launch of the 431-page Mimiko's  Odyssey include Chairman of the Nigerian Governors Forum, who is the Zamfara State governor, Abulazzez Yari , Adamawa State Governor, Umar Jubrilla, former Kaduna State governor, Alhaji Balarabe Musa, Lagos State governor's representative, Kehinde Bamigbetan, Evangelist Bamidele Olumilua and Chief Bode George and former Anambra State governor, Chukwuemeka Ezeife.
Others include; Chief Ayo Adebanjo, Chief Segun Adegoke, Afenifere leader, Pa Reuben Fasoranti, former Osun State deputy governor, Iyiola Omisore among others
 South-east'll gun for Presidency in 2019 – Ezeife
Meantime, former governor of Anambra State, Chief Chukwuemeka Ezeife yesterday said that the South-east  would take a shot at the presidency in 2019.
He was quick to lambast politicians from the zone decamping to the All Progressive Congress, APC, saying such people want to be governor through the back door.
Ezeife, who was in Akure, the Ondo State capital for the public presentation of the biography of Governor Olusegun Mimiko said the zone would follow the advice of the former President Olusegun Obasanjo.
The post Mimiko rounds off tenure with his Odyssey appeared first on Vanguard News.
Do you have something awesome to share with the world? Click here to share
Do you ever have any question about anything you wish to ask and get answer? Click here to ask
Follow us on twitter @NigeriaTodayNG
This post was syndicated from Vanguard News. Click here to read the full text on the original website.