Alleged threat to life: Anambra PDP chair reports Obiano to DSS, Police
…Allegations baseless —Gov's aide
By Vincent Ujumadu
Awka—ANAMBRA State chairman of the Peoples Democratic Party, PDP, Prince Kenneth Emeakayi yesterday stormed the state headquarters of the Anambra State Police Command and the Directorate of State Services, DSS, to inquire what had happened to the petitions he wrote to the two security agencies over alleged threat to kill him by Governor Willie Obiano.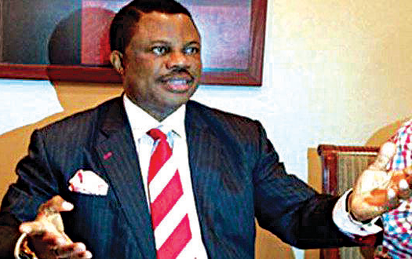 Emeakayi had alleged that the governor threatened his life during a telephone conversation following his demand for the state House of Assembly to commence impeachment proceedings against the governor for not transmitting to the state legislature a letter informing it of his travel outside the state and not informing the same House on his return after spending over 30 days outside the state.
But the Senior Special Assistant to the Governor on Strategic Communication and Legislative Matters, Prince Oliver Okpala said the allegations had no basis and were neither here nor there.
"When did mere telephone calls transform to violence? That is why I said they are neither here nor there. But since he has reported to the police and the DSS, he can now wait and see the outcome of the investigation," Okpala said.
At the DSS, Emeakayi secured audience with the state director, Mr. Yusuf Ishyaku, who informed him that the command had commenced full investigations into the allegations.
After the meeting, Emeakayi told reporters that he was disappointed that after over one month of writing the security agencies in the state about the threat to his life by the state governor, regretting that nothing had been done to secure him.
Recalling what transpired between him and Governor Obiano, Emeakayi said: "On 23 February, the governor called me on phone by himself to tell me that he will kill me if I did not stop opposing him and his government. When I asked him if he was threatening me, he said no, that it was a promise.
The post Alleged threat to life: Anambra PDP chair reports Obiano to DSS, Police appeared first on Vanguard News.
Follow us on twitter @NigeriaTodayNG
This post was syndicated from Vanguard News. Click here to read the full text on the original website.