Kalu urges Judges to emulate US colleagues
Former governor of Abia State, Dr Orji Uzor Kalu  has tasked judges to emulate their colleagues in the United States instead of  compromising on justice.
This is even as he commended President Muhammadu Buhari's fight against terrorism, urging him to use similar tactics to fix the economy.
Speaking in Washington DC, United States yesterday, during a dinner hosted by Chief Daniel Eke, Kalu said the US judiciary is strong, which was  evidenced with what happened between it and President Donald Trump.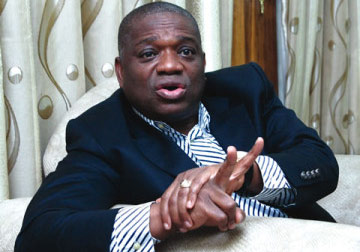 He said all  the judiciaries in Africa,  especially Nigeria should stand up and emulate US and other countries.
"They should stand up and give us judgment by the law, no matter the condition they find themselves," he said.
The former governor decried situations where judges  jail innocent citizens for something they never did,  adding that it was time people rose to defend the judiciary.
Recounting the genesis of his case with Nigerian anti-graft agency, Kalu said he had declined many interviews over the lingering case, noting that since it is already in a court of competent jurisdiction, it was appropriate he reserves his comments.
He also lamented the ill-treatment he has received from his former party, the PDP, which he  claimed had benefited very much from him.
He said: "We need to know that living on rumour and accusing people of something they never did, accusing genuine leaders who mean well, of alleged wrong they never did is not good.  All of you know that if the PDP was a company, I ought to own 90 per cent of it, because in 1998, I gave the party its first N500 million. By then, I wasn't in government. I also  gave the presidential candidate, Chief Olusegun Obasanjo, over N100 million in 1998.
"How many Nigerians would have done that? Yet the same government, the same PDP, took my bank, took my airline, took my oil licence, to put me out of business entirely because I proposed that I must run for president in 2007 and  also opposed the 3rd term bid of Obasanjo, which they are denying today."
Speaking  further, he said: "Yes I am being tried by the EFCC, but I have people  who work with British intelligence. I have people who work with United States intelligence and they know that even when President Obasanjo wrote to Tony Blair about me, Tony Blair told him they won't arrest me  me in London because I was not corrupt. When he also  wrote to President Bush Junior, he  wrote him back and told him they won't arrest me because I hadn't committed any offence."
Kalu said God used people like him to pull Nigeria together, adding that Nigerians know those who are corrupt and urged the law enforcement agencies not to overlook them
"The law enforcement agencies should go after them and fight corruption, which is a major challenge to Nigeria's development. I am a trustee of Nigeria dream, but a few Nigerians  are enjoying what I put in 1998 of which  most of them today are billionaires, but nobody asked them how they made the money. These are people who couldn't afford one kobo, one naira or one cent for their living."
The post Kalu urges Judges to emulate US colleagues appeared first on Vanguard News.
Follow us on twitter @NigeriaTodayNG
This post was syndicated from Vanguard News. Click here to read the full text on the original website.