Maude, Onigbinde say Lamptey, banned referee's conduct embarrassing
Ahmed Maude, former President, Nigeria Referees Association (NRA), on Tuesday said the recent ban slammed on Ghana's Joseph Lamptey for match manipulation during the 2018 World Cup qualifier was in order.
Maude said this in Lagos that other referees should borrow a leaf from the incident and learn to always conduct themselves with integrity.
World football governing body, FIFA, banned Ghanaian referee, Lamptey, on issues bordering on manipulation of the match between Senegal and South Africa.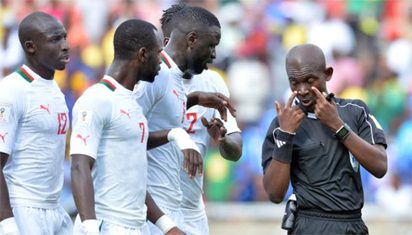 The match played on Nov. 12, 2016, ended 2-1 in favour of South Africa.
It was alleged that the referee awarded a dubious penalty to South Africa for the opening goal of the match.
The FIFA Disciplinary Committee therefore, banned Lamptey from taking part in any kind of football-related activities.
"It's sad that he was caught in such an embarrassing issue; by now, referees should understand that there is no way anybody can manipulate the results of matches.
"FIFA must have done its investigation before coming out to tell the world that a referee is banned.
"We should endeavour to always project Africa in good light no matter what, we should uphold our integrity,'' he said.
The official was found guilty of breaching Article 69 Paragraph 1(unlawfully influencing match result).
Reacting, Adegboye Onigbinde, a FIFA Grade A Coach, said that it was quite unfortunate that the referee got a live ban for his indiscretion.
"It's unfortunate, and I sincerely hope everybody learns a lesson or two from this.
"This is a World Cup qualifier, you don't mess with such a match or another match for that matter,'' he said.
The post Maude, Onigbinde say Lamptey, banned referee's conduct embarrassing appeared first on Vanguard News.
Do you have something awesome to share with the world? Click here to share
Do you ever have any question about anything you wish to ask and get answer? Click here to ask
Follow us on twitter @NigeriaTodayNG
This post was syndicated from Vanguard News. Click here to read the full text on the original website.