Atiku, 3 govs, others get HoG awards
By Oboh Agbonkhese
This year's Hall of Grace, HoG, Awards will honour former Vice President, Alhaji Atiku Abubakar, with All Time Award for "his contribution to the growth and development of democracy in the country."
Speaking on the award, the Chief Executive Officer and Managing Custodian of HoG, Mr. Rupert Ojenuwa, said HoG would for the first time in its seven-year history, give out an All Time Award.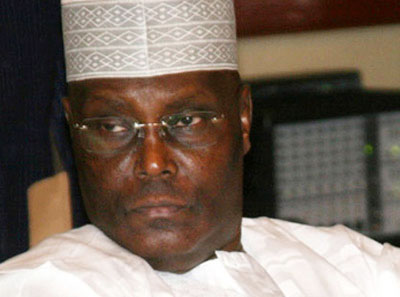 Flanked by the Head of Project, Mr. Julius Taiwo, and Director of Media, Mr. Kenneth Okafor, Mr. Ojenuwa said: "The recipient of our All Time Award is Alhaji Atiku Abubakar, a former Vice President. For the first time there was a unanimous agreement by Board Members to honour Alhaji Atiku for his many strides.
"Only those who want to play politics with the truth will argue the fact that Atiku has greatly contributed to the growth and development of democracy in the country and since the HoG is apolitical, we will say the truth as it is."
Other awardees in the event scheduled for May 21 at the Civic Centre, Lagos, are three governors, for delivering dividends of democracy; Wilma Aguele and Waheed Olagunju, for their strides in agriculture and Bank of Industry, BoI.
The HoG Awards, inaugurated in 2009, has former Minister of Information, Chief Alex Akinyele, as Grand Custodian, with Professor Dupe Olatubosun and Professor Bolaji Akinyemi as Deputy Grand Custodian and Chief Validating, respectively.
The post Atiku, 3 govs, others get HoG awards appeared first on Vanguard News.
Do you have something awesome to share with the world? Click here to share
Do you ever have any question about anything you wish to ask and get answer? Click here to ask
Follow us on twitter @NigeriaTodayNG
This post was syndicated from Vanguard News. Click here to read the full text on the original website.