Cleric advocates for prison reform in Nigeria
By Chris Onuoha
Catholic priest, Rev. Father John Damian Adizie has advocated for complete prison reformation in the country saying, the present situation in Nigerian prisons negates the purpose of sending inmates to the gaol house for transformation.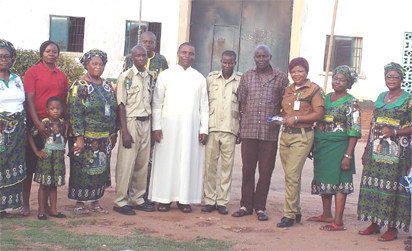 He made this observation during a visit to one of the Nigerian prisons in Edo State to mark the Easter celebration, presenting gifts, prayers and food items to the inmates.
He said; "Prison should be a place where criminals are transformed into better and law abiding citizens.
My observation shows that Nigerian prison houses are not just only congested but mixed up with minor crime offenders together with hardened criminals, a situation that is breeding more robbers and kidnappers in the society. Normal prison capacity of one of the prisons we visited is supposed to be 140 inmates whereas the actual number of inmates we met was a totaling 272. I was shocked to see about 42 inmates in one room.
"There's need for government and other governmental agencies to establish rehabilitation centers where non criminal offenders should be remanded. With such rehabilitation centers where skill acquisitions are acquired, the prison yard will no longer be a dumping ground for condemned criminals but also rehabilitation centers where people can learn how to become good and responsible citizens".
Rev. Fr. John Damian Adizie, the Director, International Youth Empowerment and Rehabilitation Centre (IYERC) in Amede-Egoro, Ekpoma, Edo State led some of his members to one of the Nigerian Prison Yard in Edo State where he prayed and put smiles on the faces of the inmates to mark the Easter Celebration. Prisons, according to him, fall into the category of his Youth Empowerment and Rehabilitation initiative.
"Our visit to Nigerian Prisons is a way of identifying with the youths, especially those that are confined. As Jesus rightly said, "When I was in prison you visited me." Prison visitations are a surest way of responding to the doctrine of our Lord Jesus Christ on love and sharing. Occasional prison visitation is also another way of identifying some of the challenges facing the youths in prisons and possible ways of highlighting these challenges for immediate response by the appropriate quarters. We are not just putting smiles of the faces of the youths in prisons rather we are indeed playing the role of Jesus Christ who is the voice of the voiceless and the defender of the defenseless." Fr. Adizie added.
Speaking on prison reformation, Fr Adizie noted that the best solution to most youth related crimes such as robbery, kidnapping, insurgency among others is youth rehabilitation and empowerment.
"The more the youths are engaged constructively, criminality will be reduced in the society. It is for this reason I established youth rehabilitation an empowerment centre known as International Youth Empowerment and Rehabilitation Centre (IYERC) that cater for the needs and rehabilitation of ex-cultists, ex-convicts, ex-prostitutes, and even youths with mental disorder and many have benefited from it today." He added.
Fr. Adizie however, made a passionate appeal to the government and nongovernmental organization that are working with prison services to take the issue of accommodation seriously, while tasking the judiciary to always speed up the process of administering justice to those on awaiting trial, saying Mobile courts could as well be established across the nation to handle non-criminal offenses.
Prayers and other gifts items were offered to the inmates who could not hide their excitement. The inmates expressed their joy and appreciation through singing, dancing and vote of thanks. They also expressed their thanks for the Monthly gift of the Daily Celebration of Christ, a daily devotional book, which according to them has transformed the lives of most of the inmates. They used the medium to appeal to the Rev. Fr. Director of IYERC to continue with his good work for the well being of prisoners and humanity as a whole.
Attachments area
The post Cleric advocates for prison reform in Nigeria appeared first on Vanguard News.
Follow us on twitter @NigeriaTodayNG
This post was syndicated from Vanguard News. Click here to read the full text on the original website.