Music meets fashion at Runway Jazz 2017
By BENJAMIN NJOKU
Afrobeat musician and protégée of Fela Anikulapo Kuti, Dede is poised to evoke the ghost of Fela as he mounts the stage on Sunday,  April 30, to perform some of  the evergreen songs of the music legend to rounds off  this year's Runway Jazz Festival.
The festival scheduled to commence from Saturday, April 29, through Sunday,  April 30, is organized by Sweet Sound Production in conjunction with Lagos State Government. The event, a fusion of world class Jazz performances and fashion, coincides with the international Jazz Day themed "Promoting Peace, Unity and Dialogue through Art".
Sponsored by United Bank for Africa Plc's REDTV(a dynamic online lifestyle channel that puts the spotlight on Africa with a distinct global appeal), as part of events lined up for the commemoration of Lagos @ 50, the two-day event will set Lagos  agog with music and dance.
Dede Mabiaku will be performing alongside the show headliners, Grammy awards winners; American Saxophonist, Najee and UK Singer-songwriter, Joss Stone.
Speaking at a press briefing to announce the festival, Mabiaku  recalls that the Runway Jazz was established to engage music and art enthusiast and Jazz aficionados, giving stylish expression to art and culture through music and fashion.
According to him, the focus on Jazz music really broadens its appeal, particularly in Nigeria and across Africa, and introduces an innovative franchise into the Nigerian entertainment scene. He assured that this year's event will be the biggest in the history of the festival as he promised to perform great songs from Afrobeat King, late Fela Kuti.
Also, speaking in the same vein, Mr. Obinna Okerekeocha, Creative Director, Red TV, said the partnership will afford REDTV's teeming viewers and lovers of contemporary jazz the opportunity to experience a world class Jazz concert in Lagos.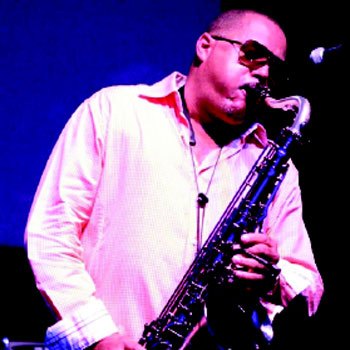 Other artistes billed to perform at the event, holding at the Convention Centre of Eko Hotel and Suites, Lagos,  are some of Nigeria's finest entertainers including Waje, Yinka Davies, Dede, Heavywind, Tosin Alao, Xerona Duke and host band, Sweet Sound.
The two day event will kick-off with the Music and Business Masterclass on Saturday, April 29 and the Runway Jazz Concert on Sunday, April 30, 2017
"With haute couture from Jewel by Lisa, and a runway show that captures the evolution of Lagos over the last 5 decades, Runway Jazz is the biggest and most unique music and fashion event to hit the Naija entertainment scene," Okerekeocha said
Also speaking at the press conference held at the Tony Elumelu Amphitheatre in UBA House, the Executive Producer, Mr Afolabi Oke, said "the Runway Jazz activities this year have been heightened and elevated by two strategic partnerships. The first is with the Berklee College of Music, Boston, USA, which will present a music and Business Masterclass, facilitated by Professor George W. Russell Jr, Chairman of the Harmony Department.  The second is the Lagos State Government; as we team up to celebrate the remarkable anniversary of Lagos State, [email protected] 50."
On the theme for the event "Promoting Peace, Unity and Dialogue through Art", he noted that "At a time when there is so much turmoil, with socio-cultural imbalances, and political unrest across nations, there is no better way to unite the people than through a medium that pushes forward an agenda that promotes peace, unity, acceptance of diversity and intercultural dialogue- Music."
The post Music meets fashion at Runway Jazz 2017 appeared first on Vanguard News.
Do you have something awesome to share with the world? Click here to share
Do you ever have any question about anything you wish to ask and get answer? Click here to ask
Follow us on twitter @NigeriaTodayNG
This post was syndicated from Vanguard News. Click here to read the full text on the original website.