My latest song Itoro is a word of inspiration to Nigerian prostitutes in Paris – Veronik Adaa
By Ayo Onikoyi
Following the success of her last single, Do Me Like This, singer and song writer, Veronik Adaa, is heating the entertainment scene up as she has just released her third single entitled Itoro.
"I am so excited. The response has been awesome! It is an inspirational song that inspires people. The message is: no matter how bad it is, if you are hardworking, you can still make a good life in your country.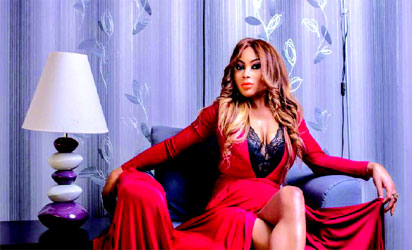 "In Paris, I see a lot of stranded Nigerians in Sambro, a lot of girls standing along the streets and waiting for men to pick them up. I see a lot of blacks suffering. And I told myself that instead  of staying here and suffering, I would rather go back to my country and live well. Itoro is telling them you can have a good life in your country. Even if you are from a poor background,   you can still be something. So the song is a kind of encouragement for all those who are down."
Among others, the fast rising singer who returned home to Nigeria a while ago is currently working on an EP project  to showcase the cultural diversity of her music  and dynamic rhythm.
Born April 2 in Port Harcourt, the Rivers state capital into the family of the Cyprians' Veronik Adaa is the oldest of her siblings. From her childhood days she has always nursed the dream to become a widely recognized artiste in pop culture, Veronique Adaa's  interest in music began at the tender age of five in Church. This passion for music carried her through as she started writing her own songs at the age of 18, the same time she started singing in pubs, as well at several live acoustic performances.
She later left the shores of Nigeria for France and auditioned in 'Nouvelle Star', a popular talent show in Paris, unfortunately by then her French was just at the early stage. This spurred her to perfect it, as she went ahead to write songs in English with a mix of French, all in a sweet manner.
Veronique's first official single, Radio Now, recorded several successes, with heavy rotation in nite clubs across Gabon.   Her last single 'Do Me Like This' was released on February 20 and produced by Fliptice. This was shortly followed by the visual, which was shot in Paris and Nigeria. Veronik Adaa is multi-talented. She   has displayed skills and love for fashion. She created the costumes for her photo shoots  and  video.
The post My latest song Itoro is a word of inspiration to Nigerian prostitutes in Paris – Veronik Adaa appeared first on Vanguard News.
Do you have something awesome to share with the world? Click here to share
Do you ever have any question about anything you wish to ask and get answer? Click here to ask
Follow us on twitter @NigeriaTodayNG
This post was syndicated from Vanguard News. Click here to read the full text on the original website.