My mum bought me bralets at nine because my boobs were already huge —EVA
•Says, a teacher would invite her to staff room just to stare at her boobs
Gone are the days slim models are calling all the shots. Now, the plus-size ones, who used to be in the shadows are taking the day and asking all the questions. In Africa and even Europe, the plus-size damsels are taking the runways, with some sort of gusto.
In Nigeria, there are a few ones who have sprung up, thanks to the Instagram, which has afforded them a platform to showcase themselves. One of such making waves on Instagram is Eva Kiss, born  Ene Vivian Adaeze (EVA), an Enugu-born, Enugu-bred curvy beauty, who only recently graduated from Enugu State University of Science and Technology.
Eva, was born into a middle class family of five and has done some editorial and promotional shoots for some designers, as well as  body part modeling shoots. As our star, Eva talks about plus-size modeling and how early puberty defined her path.
What inspired you to go into modeling in spite of your plus-size figure?
Apart from inspirations from plus-size models like Ashley Graham and Jordyn Woods , I have always had that zeal to pose in front of the camera. I was able to draw inspiration from the quote by famous fashion designer Coco Chanel "Beauty isn't measured in kilos".
What are your memorable moments as a model?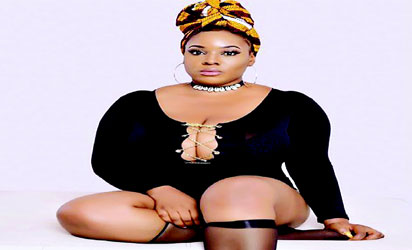 My memorable moments would be when I had to interact with other models in the industry,some had very inspiring stories to tell,especially those with the history of feeling shame over the size of their body. Some plus-size models had to overcome the stigmatization of being 'fat'.It always serves as a reminder as to why I ventured into plus modeling. The experience has always been very helpful
What's your own inspiring story?
As a child I had started experiencing the stage of puberty at an early age. My boobs had been fully developed as at high school, and most of my set girls made mockery of how huge my boobs were. Some even called me shapeless because of it . I have to prove that somehow being a supermodel doesn't have anything to do with weights.
What does it take to be a plus size model?
Well, most people think having a pretty face is all it takes. But that's not true. To be a plus-size model you need a lot of guidance from professionals in the industry and also a lot of hardwork and consistency
Aren't curves and nice boobs a factor?
You may require an extra height and ideal size range but more importantly the drive and tough skin to survive in the industry. Plus-size models are usually a 5″5 to 6″ in height and wears a size 10 upwards. curves are a necessity too. In fact a proportional figure and shapely legs.
Do the plus-size have any advantage over the slim models, and in what ways?
The plus-size have an advantage over the slim models in ways like developing a healthier attitude to eating.  Most skinny models starve themselves in orher to achieve a certain weight.
How? I guess being slim is healthier
Being slim has never been for everyone, there are actually slim girls that aren't healthy. Rise in the use  and popularity of plus-size models has helped women to be less obsessed with being slim. Most slim models skip meals and even use a lot of supplements to the detriment of their health. They might look slim but their diet plan is unhealthy and this can affect them
How far can you go as a model in playing with sexuality in doing your job?
Not far. I come from a very strict religious family. I have a few limitations, like doing a nude shoot and all. Maybe with time I might be able to do extreme shoots like that but for now I am not considering it
You said you had early puberty, how was your experience with guys growing up?
By primary 6  I remember my mum buying tiny little bralets for me because my boobs were already maturing at nine. I had a lot of older guys (like way older) walking up to me to ask me out and all but I didn't have much experience with guys because I attended a boarding school. It was a single sex school as well. So, there was little or no time to mingle with boys.  But I remember back in secondary school (JSS 3 precisely) a teacher failed me on purpose because he asked me out and I refused. He would constantly call me to the staff room to stare at my boobs. It became really disrespectful and I had to report him to our Guidance and Counseling Staff Team
Would you wish for your children to have such early puberty experience and why?
Yes, I would. This is because I became aware of my body as a woman at an early stage. My mum would always say the earlier the better. As soon as I started maturing, I was being closely guided and given a lot of sex education at an early stage and it taught me a lot.
How has the Instagram helped your brand?
It has given me more opportunities. Designers easily DM me for jobs and castings. With my composite card on Instagram it's easier for me to get jobs. Plus it's giving more room for me to gain followers and publicity. And I see all my followers as prospective clients
As a pretty and sexy lady, what does it take to win your heart?
I love tall guys that smell good but ultimately it takes a God-fearing and kind-hearted man to win my heart
Finally, how do you see the future of plus-size modeling in Nigeria and the world?
As time is progressing, there has been a steady increase in the number of plus-size models hitting the main stream runways. Initially, I have always wondered why the skinny models (a.k.a) the lekpas were used often. But recently the Nigerian modeling industry are beginning to value the plus-size models. There's a huge market for plus-size models in Nigeria and all over Africa for that matter. Even Western cultures are also beginning to value plus-size models. I believe the future of the industry is slowly unraveling as the community is doing a lot to create awareness
The post My mum bought me bralets at nine because my boobs were already huge —EVA appeared first on Vanguard News.
Follow us on twitter @NigeriaTodayNG
This post was syndicated from Vanguard News. Click here to read the full text on the original website.