Umeh tasks INEC on Anambra Senatorial re-run election
By Emeka Mamah
Former National Chairman of the All Progressive Grand Alliance, Chief Victor Umeh has asked the Independent National Electoral Commission, INEC, to conduct the Anambra Senatorial re-run election to close the chapter on the 2015 general elections in the country.
Umeh who is a candidate in the election said that out of the 80 national and state assembly results including that out Anambra South Senatorial zone were nullified by the various courts adding that 79 of them had been resolved through re-run elections except the Anambra Central.
He spoke in an interview with Saturday Vanguard in Enugu yesterday.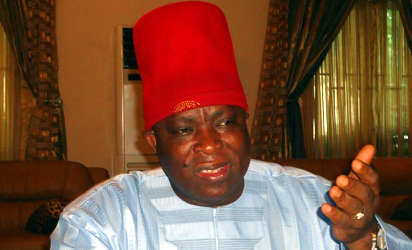 "As I am speaking to you, Anambra Central Senatorial election is the only outstanding and my people are the only people not represented in the Senate. Altogether, 79 of all those re- runs have been concluded. It remains Anambra Central and we are the only place in the whole country not represented in the Senate. This is 2017 and the election was conducted in 2015," he said.
Umeh also spoke on the chances of APGA during the November governorship elections in the state and predicted resounding victory for Governor Willie Obiano.
According to him, the people of Anambra State would have bordered about the election result if it were during the Chief Olusegun Obasanjo era, as he (Obanajo) was the greatest enemy of democracy and whose regime poll results were prepared ahead of election days.
"Obasanjo is enemy of democracy. What he did to the people of south eastern Nigeria would all be back to hunt him because for eight years he was president he never allowed democracy to flourish in Igbo land.
"There was nothing he didn't do to ensure that our people never enjoyed democracy. At a time he saw Ojukwu's leadership of APGA as a continuation of Nigeria Biafra civil war that ended more than 47 years ago. Anything that Ojukwu was leading, he would see it as something that must be crushed with weapons. That was what we saw under his presidency. So now that President Buhari who is acknowledged to be somebody who hates corruption is in charge, we are expectant that elections that would come under him would be elections that would promote democracy because he was a victim of electoral fraud under Obassajo's presidency.
"He contested in 2003, 2007, 2011 and he got it in 2015 at the fourth attempt. He knew how frustrating it was to him in the previous three attempts so what he needs to do now is to make sure that the votes of the people will count most in all elections in Nigeria because he came in as a reformer and he has to ensure that those reforms take place in Nigeria so with those things assured in November this year, I have not seen any reason why APGA should not win.
"I have not seen any reason why Obiano will not be re -elected based on the things both the governor and the party have done for the people of Anambra State.
"So it is going to be a sure victory for the governor and the party. I will continue to ask our people to be very objective in looking at their past, their present and what they want their future to be. "We can tell you that it would be very costly for our people to make the mistake of going back to the bad old days… If we depart from this platform that organised this state, made the state a model worthy of emulation by other parts of Nigeria … it will not augur well for us.
"So, there is no reason for change at this time. So that's my position on governor Obiano, Anambra State and the forth coming elections," he added.
The post Umeh tasks INEC on Anambra Senatorial re-run election appeared first on Vanguard News.
Follow us on twitter @NigeriaTodayNG
This post was syndicated from Vanguard News. Click here to read the full text on the original website.