Oba of Benin restores rights of banished woman
By Gabriel Enogholase
OBA of  Benin, Oba Ewuare 11,  has directed that Mrs. Victoria  Orhue who was unjustly ostracized from her native community, Obe N'Evbueribo in Ikpoba/Okha local government of Edo State by the Odionwere and Ohen (Chief Priest)  over communal issues,  be recalled back and  all her lands and other properties that were confiscated by the Odionwere and Ohen of the village returned to her immediately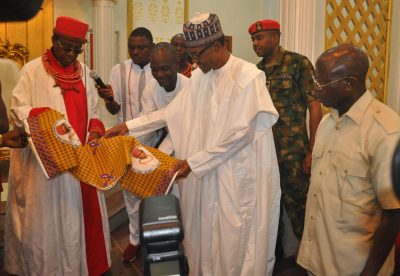 He gave the order yesterday while presiding over traditional matters affecting individuals, villages and families  at UGHA-OZOLUA venue of the of native court at the palace ground.
Mrs. Victoria Orhue alongside with her children were banished from  Obe N'Evbueribo  village  by the Odionwere,  Mr. Oyeobasojie Ekhator and Ohen Osaghae Edobor after forcefully confiscating her land and other properties.
They were alleged to have been  ostracized from the village  after  they had confronted the Ohen and Odionwere of the community for their  forceful seizure of her land and  properties.
She was also said to have been assaulted by some Community Development Association youths. The Benin Monarch in his judgment condemned the bias and unacceptable unilateral decision of the Ohen and Odionwere of the village, saying they had no powers to banish anyone from the village.
He further warned that decisions on certain traditional matters must be taken to the palace for due consultations before adjudicating on them by traditional and village heads including Ohens in Benin kingdom.
Oba Ewuare 11 also directed  the Ohen and  Odionwere   to  desist   forthwith from  such decisions and make peace with Mrs. Orhue and her children including all the residents of the village.
The post Oba of Benin restores rights of banished woman appeared first on Vanguard News.
Do you have something awesome to share with the world? Click here to share
Do you ever have any question about anything you wish to ask and get answer? Click here to ask
Follow us on twitter @NigeriaTodayNG
This post was syndicated from Vanguard News. Click here to read the full text on the original website.