Trump's oil dominion amid climatic concerns
By Sonny Atumah
Traditionally the power and influence of first term American Presidents start with their accomplishments in a hundred days in office. President Donald Trump in wielding that power reversed President Barack Obama administration's leasing ban on oil blocks in the Arctic, Atlantic and Pacific waters. The euphoric executive order was also to open up exploration activities in the Virginia and North and South Carolina where drilling has been blocked for decades.
The area is approximately 1.7 billion acres on the Outer Continental Shelf, the parts of the ocean and seabed. About 94 percent of this continental shelf harbours 89.86 billion barrels of undiscovered oil and 327.48 trillion cubic feet of undiscovered natural gas put off limits to drilling. Trump directed the U.S. Interior Secretary, Ryan Zinke whose department oversees the offshore area to review President Obama's five-year plan for offshore drilling rights in federal waters.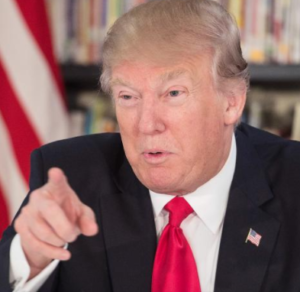 In November 2016, Obama signed a five-year order (2017-2022) banning new oil and gas drilling in Federal waters in the Chukchi and Beaufort Seas off Alaska, most of the Atlantic from New England to Chesapeake Bay and the Pacific. Obama relied on the 1950 Outer Continental Shelf Lands Act that allows presidents to limit areas from mineral leasing and drilling. But the Congress has the capability to open offshore waters for auction. The Trump administration relying on two Alaskan senators, Lisa Murkowski (R) and Dan Sullivan (R) has introduced legislation in the Republican dominated Congress to allow drilling in the areas Obama put off limits.
Is anything odd about Trump's review order to expand oil and gas drilling? Environmental groups have raised the red flag that drilling rigs are now getting close to the ice sheet in case of a spill. They remind Trump about the 2010 devastating Gulf of Mexico BP oil spill that destroyed many species of plants and animals. They believe that American offshore fossil fuels reserves should be left intact to mitigate global warming preserve ecosystems and the environment. Obama endorsed the 2015 Paris COP 21 provisions on climate change which made nations have legally binding and universal agreements to keep global warming below 2 degrees Celsius.
At the recent 2017 Offshore Technology Conference, OTC held at the New Radiancy Group, NRG Park, Houston, Texas, Secretary Zinke gave details of the Trump plan. Zinke noticed the genuine concerns but was of the view that drilling benefits may outweigh environmental worries. Trump Energy Plan is to use revenues from energy production to rebuild roads, schools, bridges and public infrastructure as well as investment in agriculture. But ocean advocacy groups believe it is another disaster in the waiting because of the difficulties of removing oil from sea ice.
Environmental groups believe Trump's path is different from the 26th United States President Theodore Roosevelt who became President in 1901, but used his authority to protect wildlife and public lands by signing the Act for the Preservation of American Antiquities in 1906. When many considered natural resources inexhaustible, Conservationist President Teddy as he was nicknamed wrote: "We have become great because of the lavish use of our resources. But the time has come to inquire seriously what will happen when our forests are gone, when the coal, the iron, the oil, and the gas are exhausted, when the soils have still further impoverished and washed into the streams, polluting the rivers, denuding the fields and obstructing navigation."
Trump's "America First Energy Plan" recognised the untapped domestic energy reserves that would bring jobs and prosperity to millions of Americans. The domestic oil and gas industry employs about 10 million Americans. He is to explore the estimated US$50 trillion in untapped shale, oil and natural gas reserves on federal lands. Trump wants America to dominate in oil production and maintain its superpower status but whether he would be remembered for that in another hundred years is consigned to history.
The president of Reliance Well Services Dan Doyle writing for Oilprice.com expressed concern about America's energy ownership and control. He observed that the largest U.S. refinery the Motiva Refinery in Port Arthur is owned by Saudi Arabia. The other two in the May 1, 2017 dissolved joint venture between Saudi Aramco and Shell, the Norco and Convent Refineries in Louisiana belong to Shell.
The three Gulf Coast refineries were designed to run on low quality, sour (sulphur heavy) crude from Saudi Arabia. The PDVSA of Venezuela that acquired CITGO Gulf Coast refineries and others in joint ventures import heavy, sour and cheap oil from Venezuela and Mexico. About 2.7 million barrels of imported oil go to Gulf Coast refineries.
America imports about eight million barrels of crude oil every day. Zinke re-echoed American intent for oil dominance by fracking shale which loosening drilling regulations would assist in realising. The optimism stems from efficient drilling methods and production cost reduction that anticipates 10.24 million barrels per day by the end of 2018. America's oil reached its peak of 10 million barrels in 1970.
America's disposition towards oil independence would encourage Trump in wresting the foothold from the Middle East. Many cite Saudi Arabia a perceived ally of America for decades that champions market share control and making the United States always a price taker. They allege that Saudi Arabia which supplies about one million barrels of crude to the U.S. sells better quality crude elsewhere in global oil markets.
The post Trump's oil dominion amid climatic concerns appeared first on Vanguard News.
Follow us on twitter @NigeriaTodayNG
This post was syndicated from Vanguard News. Click here to read the full text on the original website.