'Ugwuanyi 'll grace our book presentation for TETFUND sponsorship'
By Emeka Mamah
The Enugu State University of Science and Technology, ESUT, is to present three books which publications were sponsored by the Tertiary Education Trust Fund, TETFUND on Thursday, the Chairman, Book Review Development Committee of the university, Professor Chike Anibeze, has said.
Anibeze said that the books include Basic and Applied Insect Science written by Prof Ethel Doris Umeh; Basic Neuro Anatomy by Prof Chike Anibeze and the Handbook of Science Education; A Cognitive Science Approach, by Prof Ngozika Mbajiogu.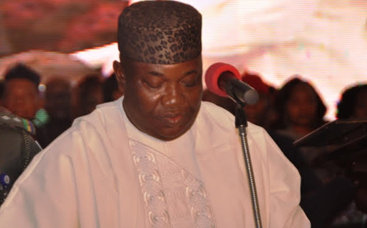 According to Anibeze, the ceremony would be witnessed by the Visitor of the university, Governor Ifeanyi Ugwanyi, the Chairman of Innoson Group, Chief Innocent Chukwuma and his Juhel counterpart, Dr Ifeanyi Okoye, the former Executive Secretary to the National Universities Commission, NUC, Prof Peter Okebukola; who would chairman the occasion and the Vice Chancellor of ESUT, Prof Luke Anike, among other captains of industries.
His words, "TETFUND has devised a way of ensuring that the books we publish in the universities meet international standards. The books pass through the turn- it- in; turn- it –out software to ensure that the materials are not plagiarised in any form.
"Under the programme, the lecturer writes a book and presents for peer review. The peer review of each text book must be handled by at least two senior academics preferably of professorial cadre and one of the reviewer must come from outside of the university's geopolitical zone.
"In this case, one of the reviewers of each book, came from outside the geopolitical zone of ESUT. The peer review committee recommends such a person and the university pays him/ her honorarium. If the publications committee sits and the result is positive, it recommends to TETFUND for publication. So, TETFUND sponsors the publication to encourage writing of books.  That's the story."
What we do also, is that our committee oversees the ESUT Press which publishes the books and the ESUT Press does the proper layouts and other necessary editorial work. So, TETFUND is just an intervention."
The post 'Ugwuanyi 'll grace our book presentation for TETFUND sponsorship' appeared first on Vanguard News.
Do you have something awesome to share with the world? Click here to share
Do you ever have any question about anything you wish to ask and get answer? Click here to ask
Follow us on twitter @NigeriaTodayNG
This post was syndicated from Vanguard News. Click here to read the full text on the original website.