Children's Parliament urges Domestication of Child Rights Act to fight malnutrition
The Children's Parliament in Zamfara has called on the state government to domesticate the Child Rights Act in order to address the issues of poverty, malnutrition, illiteracy and abuse of children.
The call was made by the Clerk of the parliament, Nana Tsafe on Saturday in Gusau at a joint news conference held by the parliament and the state's School Children Advocacy Club.
Newsmen report that the news conference was part of activities to mark this year's Day of the African Child.
This year's theme is: "The 2030 Agenda for Sustainable Development for Children in Africa''.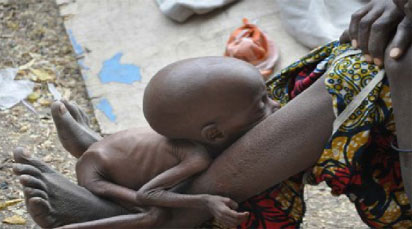 They recalled that the tri-annual 2014 SMART Survey had indicated that 50.1 per cent of children in the state were stunted, while 31.1 per cent suffered underweight.
The parliament said only 10.3 per cent of zero to five months old children received exclusive breastfeeding, a situation they described as "disturbing''.
They said more than 34,000 cases of malnutrition were recorded by the state Primary Healthcare Board in six out of the 14 local government areas of the state in 2015, while the number of out of school children was on a steady rise.
They lamented the recent disclosure by the chairman of the state's Universal Basic Education Board (SUBEB) that over 300 public primary schools in the state were manned by one teacher each.
According to them, the situation requires urgent attention "in order to save the lives of children from the poor and marginalised communities in the state.''
They also called on governments at all levels to ban corporal punishment in all schools in the country, noting that such measures could also be regarded as a form of "abuse which is cruel and degrading'.
The post Children's Parliament urges Domestication of Child Rights Act to fight malnutrition appeared first on Vanguard News.
Do you have something awesome to share with the world? Click here to share
Do you ever have any question about anything you wish to ask and get answer? Click here to ask
Follow us on twitter @NigeriaTodayNG
This post was syndicated from Vanguard News. Click here to read the full text on the original website.