Mourinho Defends Man United Performance Vs Southampton, Praises Lukaku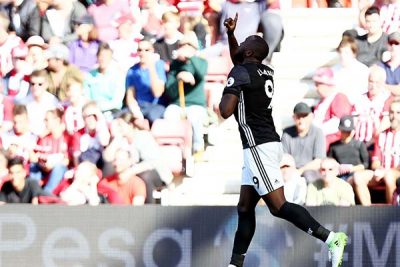 Manchester United manager Jose Mourinho has defended his side's below-par performance against Southampton in an English Premier League game on Saturday.
United won the encounter 1-0 courtesy of a strike from Romelu Lukaku who poked in his rebound header in the 34th minute for his sixth league goal of the season.
"It is not always possible to operate at high quality but we fought hard,"Mourinho told Skysports after the game.
"We did what many teams in the Premier League do for 90 minutes, which was play with five defenders at the back.
"Credit to Southampton, they tried to play. Pellegrino changed the team and sent on another striker to play more direct.
"It was a hard game but I am really happy.
He also praised Lukaku for his efforts.
"Romelu Lukaku's work is so important for us. He scored his goal and worked hard like everybody else," Mourinho added.
"Nobody feels the pressure to play always attacking football because so many teams play always defensively.
"I felt some of the boys were not sharp. I didn't feel like we could score three or four goals like we sometimes do so the option was to make sure we got the points."
Do you have something awesome to share with the world? Click here to share
Do you ever have any question about anything you wish to ask and get answer? Click here to ask
Follow us on twitter @NigeriaTodayNG
This post was syndicated from Complete Sports Nigeria. Click here to read the full text on the original website.