NASS set to revisit quest for special status to Lagos
By Olasunkanmi Akoni & Monsuru Olowoopejo
INDICATIONS emerged, yesterday, that the National Assembly was set to revisit the earlier motion jettisoned by the Senate seeking one percent special allocation to Lagos from the federal revenue.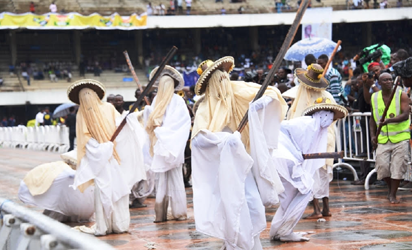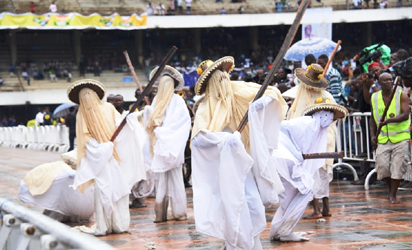 This came as Governor Akinwunmi Ambode of Lagos State, stressed the need for a collaborative effort and synergy between the Executive and Legislative arms of government to deliver on electoral promises as well as engender and good governance for its citizens, describing it as "critically essential."
Similarly, Senator, representing Lagos East, West, Gbenga Ashafa and Adeola Olamilekan, respectively, described Governor Ambode as a visionary, committed and courageous leader and a role model for good governance in Nigeria.
Governor Ambode and the senators made the remarks, yesterday, at the opening session of the 2nd annual Executive/Legislative parley, 14th in the series, themed, "Lagos: The rise of a mega city state, the collaboration that works," being organised by the Executive arm to review execution of policies and chart a new way forward.
Speaking, Olamilekan said members of the Senate were already working with their colleagues to revisit the motion earlier moved by Senator representing Lagos Central, Oluremi Tinubu for consideration and passage.
Adeola also commended Governor Ambode for his giant strides in office so far and for sustaining the parley, which he said had contributed to enhancing good governance in the state.
Adeola, who spoke on behalf of the Lagos Caucus in the National Assembly,  explained that all hope was not lost on the effort to get special allocation to Lagos State and  assured that they would continue to defend the interest of the state at both the upper and lower legislative chambers such as special status, state police, restructuring and devolution of powers.
Ambode in his address explained that the parley would further ensure the executive and the legislature work in tandem for the progress of the state.
According to him, "for any state government programme and policy to be effective and make impact, a sound legal framework is needed and the legislature is the body that usually provides that. This is why collaboration between the executive and legislature is important, especially to achieve targeted goals. There is little or nothing that a government can ever achieve, if the legal framework is not put together properly."
He also commended the legislators at the national assembly for being very cooperative. We need the legal framework, without good legal framework, the private sector will not believe it and invest their money."
The post NASS set to revisit quest for special status to Lagos appeared first on Vanguard News.
Follow us on twitter @NigeriaTodayNG
This post was syndicated from Vanguard News. Click here to read the full text on the original website.