Keep hope alive, experts urge parents of children with Sickle Cell Disorder
By Chioma Obinna
Experts in Sickle Cell Disorder,SCD, management have urged parents of children with the disorder to keep hope alive saying, "it is wrong to presume that a child with SCD cannot live up to 21 years.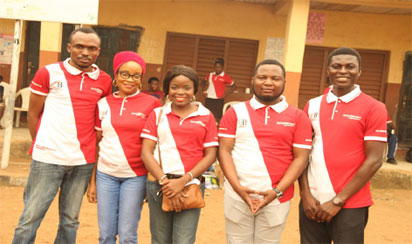 Speaking on care and management of SCD during a medical outreach Programme organised by Crimson Bow Sickle. Initiative, Dr. Babatunde Aderole urged parents  parents to keep hope alive over children with sickle cell disorder.
"They can live long like any other child. It all depends on quality of care given to the children," he said.
He recommended adequate nutrition, clean environment and medical attention as vital  for children with SCD.
Adewole advised against discrimination of children with SCD, explaining that it is not contagious and  does not prevent close  interaction.
On her part, the Chief Executive Officer, Crimson Bow Sickle Cell Initiative,, Ms. Timi Edwin disclosed that the programme was put together to enlighten parents on care and management of SCD..
"It was also to give free genotype test to the children. She added that about 100 person are supporting the NGO through voluntary donations.
"The NGO also works with the local government so as to be able to gather children from public schools in each LGA. Gifts like sweaters, water bottles, face caps were given to the children Adults also got free medical counseling. The NGO earlier held the programme in Agege and Alimosho local governments before moving to Ketu in Kosofe," she explained.
The post Keep hope alive, experts urge parents of children with Sickle Cell Disorder appeared first on Vanguard News.
Do you have something awesome to share with the world? Click here to share
Do you ever have any question about anything you wish to ask and get answer? Click here to ask
Follow us on twitter @NigeriaTodayNG
This post was syndicated from Vanguard News. Click here to read the full text on the original website.