Nigeria's Masai Ujiri among NBA figures to decry Trump 'shithole' slur
The Toronto Raptors' Nigerian president Masai Ujiri was just one NBA figure with a strong response on Friday to US President Donald Trump's reported denunciation of immigration from 'shithole countries."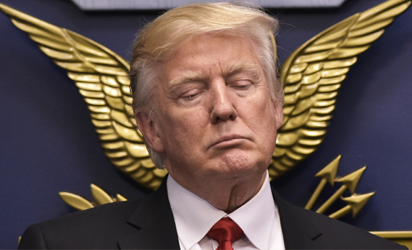 While Trump took to Twitter to deny using the specific term, Democratic Senator Dick Durbin insisted that the president had used such "vile, racist" language in a meeting with lawmakers on immigration reform.
Ujiri, who emigrated from Nigeria to play college basketball and was named NBA Executive of the Year in 2013, told ESPN that Trump's reported comment was unfair.
"This summer, I went to Kigali, and Nairobi and Lagos, and I went to Kampala and Abidjan and Dakar and Johannesburg and I saw great cities, and great people," Ujiri told ESPN.
"And I went to visit the refugee camp in Dadaab, and I met good people and good families with plenty of hope. If those places are being referred to as shitholes, go visit those places, and go meet those people."
"I don't think it's fair, and I don't think it's what inspiring leadership can be. What sense of hope are we giving people if you are calling where they live — and where they're from — a shithole?
"I've spent a lot of time in the United States and Canada and I am grateful for the opportunities that I've been given by people, and the game of basketball, and the NBA," he added. "As leaders, I think we have to give people in many places a chance to have success, not continue to put those people down.
"We have to inspire people and give them a sense of hope. We need to bring people along, not ridicule and tear them down. This cannot be the message that we accept from the leader of the free world."
Golden State Warriors forward David West used Twitter to respond to Trump's remarks, which have been branded racist.
"How they became 'Shit Holes'" he said in a tweet that included an excerpt from Spanish historian Bartolome de las Casas' "A Short Account of the Destruction of the Indies" — a 16th Century account of the ravages of colonization.
The post Nigeria's Masai Ujiri among NBA figures to decry Trump 'shithole' slur appeared first on Vanguard News.
Do you have something awesome to share with the world? Click here to share
Do you ever have any question about anything you wish to ask and get answer? Click here to ask
Follow us on twitter @NigeriaTodayNG
This post was syndicated from Vanguard News. Click here to read the full text on the original website.