Breaking: Fayose allegedly launches Presidential campaign banner?
Ekiti state governor, Mr. Ayodele Fayose has allegedly launched a 2019 presidential campaign banner, as claimed by trends on social media.
Recall that Governor Fayose had in June this year said that he would take presidential powers out of President Muhammadu Buhari's hand to become Nigeria's next president by contesting the 2019 presidential elections.
In the statement, Fayose who spoke at a meeting with political office holders at the Government's House, Ado Ekiti, where he also inspected Osoko Political Institute Centre, had also said that ""I have penchant for taking powers; that one in Buhari's hand. I will take it. I'm going straight to that villa. I'm the next president.
"I want to be the next president of Nigeria. My own won't be this change that has brought nothing, we are going to represent the people well and tell them the truth."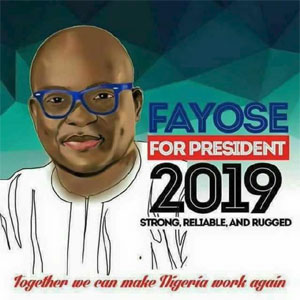 In what, however, looks like putting his words to action, A Facebook page claimed to be one of that of the Governor displays the 2019 presidential campaign banner of Governor Fayose with the inscription, "Fayose for president 2019,"and a sub-slogan that read, "Strong, Reliable and Rugged."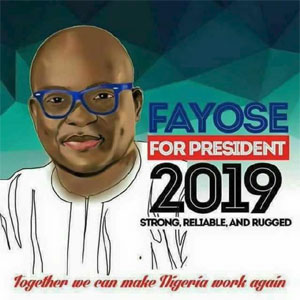 The banner which has Fayose's pictorial drawing, with a pair of glasses to match and a friendly smile also has its major slogan read, "Together, we can make Nigeria work again."
However, some Facebook users did not waste time to register their opinion concerning the post.
For instance, a user, Franca Eyo Archibong, argued, "Presidential ticket has been zoned to the North by the PDP. Do, what's this about???"
Another, Bolanle Bolawole, replied by saying, "That is debatable. Calculate how many years the North has ruled Nigeria since Independence in 1960 and you'll see that the South still has a lot of catching up to do. It is the usual deceit when some people want to count from 1999 as if 1960 to 1999 is not part and parcel of the country's history."
And yet, another Facebook user, Ayegbusi Odunayo, said, "it is time for the southern region to contest, go Fayose go nothing shall stop you, 'ni agbara olorun ati awaon to Nile. Osokomole yes ooo!!!"
The post Breaking: Fayose allegedly launches Presidential campaign banner? appeared first on Vanguard News.
Do you have something awesome to share with the world? Click here to share
Do you ever have any question about anything you wish to ask and get answer? Click here to ask
Follow us on twitter @NigeriaTodayNG
This post was syndicated from Vanguard News. Click here to read the full text on the original website.