Budget row: Fashola can't dictate to N-Assembly —Senator Ibrahim
By Demola Akinyemi
ABUJA— Chairman, Senate Committee on Banking, Insurance and Other Financial Institutions, Senator Rafiu Adebayo Ibrahim, has faulted the Minister of Power, Works and Housing, Mr Babatunde Fashola, on his alleged outburst against the lawmakers over reduction in the votes allotted to his office in the Appropriation Act.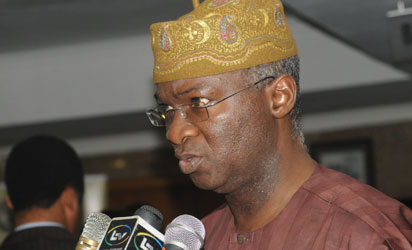 Fashola had criticized the Senate for slashing the total estimate allocated to his ministry in the budget recently assented to by the Acting President, Prof Yemi Osinbajo, from N31 billion to N10 billion.
He posited that the huge reduction would incapacitate his office on some of the projects, such as Lagos/Ibadan Expressway, Second Niger Bridge and Mambila Plateau Power project, among others, that were already earmarked for completion.
But Senator Ibrahim, who spoke to journalists on the sidelines of the 5th Edition of the University of Ilorin's Students' Union Leadership Summit, in Ilorin in his honour, said it was unbecoming of the minister, who he described as an appointee of the President to criticize the legislature.
He stated that as far as appropriation bill was concerned, Fashola could not dictate to the National Assembly on what to do and what not to do, saying it was an organ vested with powers to either increase or reduce the budget size.
Ibrahim explained that the issue of budget was primarily that of lawmakers, who represent their constituents and the Nigerian populace.
The lawmaker maintained that the minister was oblivious of the fact that he was no longer Lagos State governor who possessed all powers.
On the summit and the book launch in his honour, the lawmaker expressed satisfaction with the activities of the students' union, saying: "I'm very happy, humble and glad to be associated with a great institution like this."
The post Budget row: Fashola can't dictate to N-Assembly —Senator Ibrahim appeared first on Vanguard News.
Follow us on twitter @NigeriaTodayNG
This post was syndicated from Vanguard News. Click here to read the full text on the original website.