Epic movie 'Tatu' set to premiere at Eko Hotel
By Chris Onuoha
All arrangements are on ground to unveil a new blockbuster film that is set to give movie goers run for their money, titled; 'Tatu'. The long awaited epic adventure movie, under the auspice of Bank of Industry, Patriarch Technologies and FilmOne Production and Distribution will be premiered on Saturday 22 July at the Eko Hotel Convention Centre.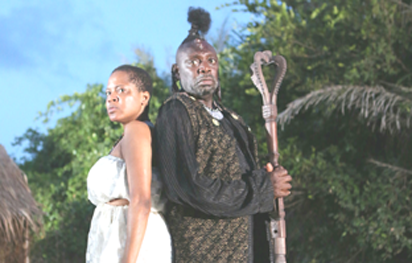 The suspense filled movie produced and directed by the award winning producer Don Omope, creative director, FilmOne production, who also produced the smash hit 'The Wedding Party' is an adaptation from a book written by the prolific author Dr. Abraham E. Nwankwo, the recently retired Director General, Debt Management Office.
Shot in scenic locations across Lagos and Ibadan, the movie TATU is a contemporary African epic and adventure story, a fast paced action drama centered on the conflict arising from a mother's quest to have a child, the intrigue, complications and cultural bias therein. The film featured A-list Nollywood actors that include Segun Arinze, Desmond Elliott, Gabriel Afolayan, Hafiz Oyetoro (saka), Toyin Aimakhun-Abraham, Rahama Sadau, Sambaza Nzeribe, Funlola Aofiyebi-Raimi, Frank Dunga and a host of others.
"The movie, 'TATU' is a success story that has the entire hallmark to become another smash hit. It's my third collaboration with cinematographer Akpe Ododoru and we spent a year developing this script from book to film. The premiere of the movie will be the center piece of a bigger celebration that will bring together heads of industries from finance, banking, government and the international diplomatic service alongside Nollywood stars to celebrate the retirement of Dr. Abraham Nwankwo from a distinguish public service career as the Director General of the Debt Management Office." Don Omope, Director.
The post Epic movie 'Tatu' set to premiere at Eko Hotel appeared first on Vanguard News.
Follow us on twitter @NigeriaTodayNG
This post was syndicated from Vanguard News. Click here to read the full text on the original website.