No need for restructuring in Nigeria — Okorocha
By Chinonso Alozie
Owerri—Governor Rochas Okorocha of Imo state, yesterday, said that the country did not need any restructuring.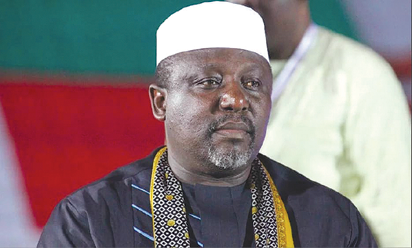 The governor was quoted to have made the statement by his Chief Press Secretary, Mr Sam Onwuemeodo, at the 67th Annual Conference of the Broadcasting Corporation of Nigeria, BON, in Owerri.
Okorocha's reason was that restructuring meant different things to the various geo-political zones in the country and that what the country needed was "repackaging."
The release went further to justify the governor's opposition to the call for restructuring.
As captured by the release, "Governor Rochas Okorocha has called on proprietors and managers of the Radio and Television Stations in the country operating under the aegis of Broadcasting Organization of Nigeria (BON) who are meeting in Owerri for their 67th Annual Conference.
"To help repackage Nigeria for consumption by the rest of the world because that is what is needed now and not restructuring.
"He also asked them to come up with programmes that could allow the less privileged in the society who cannot afford the high cost of electronic media to also be heard.
"Our nation requires repackaging. It is unfortunate that a great nation like ours has not been properly packaged for consumption by the international communities.
"Yet, there are more evils in other nations than we have in Nigeria but the reports going out about our country is such that no one will want to come into Nigerian unless for those who want to take risk." No nation can grow with this arrangement.
The post No need for restructuring in Nigeria — Okorocha appeared first on Vanguard News.
Follow us on twitter @NigeriaTodayNG
This post was syndicated from Vanguard News. Click here to read the full text on the original website.