Project Inauguration: Bayelsa hails Gowon, Soyinka, others for participating
By Samuel Oyadongha
YENAGOA—BAYELSA State Government has expressed gratitude to former Head of State, General Yakubu Gowon (retd.) and his wife, Lady Victoria, for honouring its invitation to commission two flagship projects in the state.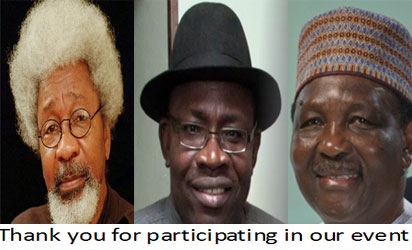 The state government, in a statement by the Commissioner for Information and Orientation, Mr. Jonathan Obuebite, described General Gowon's acceptance of the invitation to commission the new Governor's Office complex and the Ijaw National Academy, Nigeria's largest state government free boarding secondary school at Kaiama, as heart-warming, a massive boost and a mark of encouragement.
The commissioner also expressed gratitude to Nobel Laureate, Professor Wole Soyinka, Ijaw literary icons, Professor John Pepper-Clark and Dr. Gabriel Okara, as well as renowned historian Professor E. J. Alagoa and other notable personalities for honouring the state government's invitation to participate in the commissioning of the projects, as well as the inspirational and intellectual academic exercise at the Ijaw National Academy.
He lauded Professor Soyinka on his conferment and acceptance to serve as honorary educational ambassador to the state, and inspiring 1,000 future leaders of the Ijaw National Academy with his motivational words.
The post Project Inauguration: Bayelsa hails Gowon, Soyinka, others for participating appeared first on Vanguard News.
Follow us on twitter @NigeriaTodayNG
This post was syndicated from Vanguard News. Click here to read the full text on the original website.