VIDEO: Express FC players beg Bryan White for more money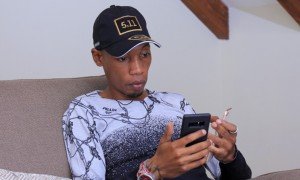 By BigEyeUg Team
Days after city money bags, Bryan White, vowed never to support Wankulukuku based Express Football Club, the team has come out to beg for his re-indulgence.
White who is known for throwing money at people as he insults them and reminds them how poor they are had in the recent past bought Express Club a bus to transport players and effected a cash prize to all players for each game played.
Trouble started when he donated a big sum of money to the club only for it to be allegedly misused by top management.
Bryan who was perturbed by the embezzlement of his money came out and denounced the club vowing never to support it.
In a bid to get him back in the club and start enjoying his money again, the Express team, represented by Promise Mkpene, came out today in a video and requested him to come back. They cried to him saying that they are nothing without him.
"We the players beg our brother Bryan White the number one express supporter to please ignore the words of everyone else and come back to Express. We need you everybody needs you. Ugandan football needs you, Azam football needs you, and the players needs you. You are our number one morale booster," said Promise Mkpene one of the players.
"Whenever we see you at the pitch we are very optimistic that we shall make you proud one day," he added.
Here is the video
The post VIDEO: Express FC players beg Bryan White for more money appeared first on Bigeye.ug.
Do you have something awesome to share with the world? Click here to share
Do you ever have any question about anything you wish to ask and get answer? Click here to ask
Follow us on twitter @NigeriaTodayNG
This post was syndicated from Bigeye.ug. Click here to read the full text on the original website.